2021
No gigs this year
LESLIE DOWDALL AND MIKE HANRAHAN
WELCOME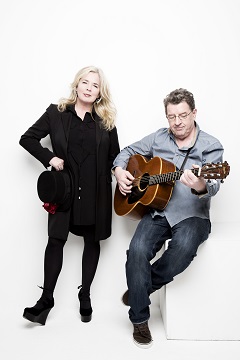 You are my sister features Leslie on Vocals and Piano, Mike on Guitars and vocals and special guest appearance from Ciaran Brennan on Double Bass. Released to radio Jan 2017
gigs
Fri 17 Gibbon's Pillar House, 8 Society St, Ballinasloe, Co.Galway
https://www.facebook.com/thepillarhouse
http://thepillarhouse.ie/music
Doors 8pm / on stage @ 9pm
Tickets €20 available from Pillar House 090 96 43939 or contact 087 9046140

Sat 18 Presentation Centre Enniscorthy, Co. Wexford
http://www.presentationcentre.ie/
Doors 8pm / Start @ 8.30pm
For bookings and information contact Emily Whelan
Bookings/info via Wexford Arts Centre:
053 912 3764/ boxoffice@wexfordartscentre.ie
Tickets €18/€16 conc

Thurs 23 Number Twenty Two, South Anne St, Dublin 2
http://www.numbertwentytwo.ie/ceol-nights/
Doors 7pm | Dinner 7.15 onwards | Stage time 9.15
Tickets €17.50 + bf / dinner and show €55
https://www.eventbrite.ie/e/mike-hanrahan-and-leslie-dowdall-live-number- twenty-two-tickets-31156948271

Fri 24 Sirius Arts Centre, The Old Yacht Club, Cobh, Co. Cork
www.siriusartscentre.ie
doors 8.15pm /on stage 8.30pm
Bookings/info: 021 4813790 / Info@siriusartscentre.ie
http://www.siriusartscentre.ie/music
http://www.siriusartscentre.ie/music/leslie-dowdall-and-mike-hanrahan
Tickets €18
Leslie Dowdall and Mike Hanrahan
Press release. Jan 2017-01-20
Leslie Dowdall and Mike Hanrahan release their version of Antony and The Johnsons beautiful song You Are My Sister in January 2017 followed by a nationwide tour beginning early February with gigs in Galway, Cork, Dublin and Wexford.
Leslie Dowdall is the voice and songwriter behind the sound that was In Tua Nua. Mike Hanrahan is the voice and songwriter that was Stocktons Wing.
Leslie and Mike have toured intermittently in recent years and this is their first recording since Learning to Let Go released a few years back.
Leslie has released two solo studio recordings No Guilt No Guile and Out There. Her song Wonderful Thing was one of the hit songs of the nineties and featured on many national ad campaigns including The National Lottery. She has toured with Paul Brady and provided guest vocal on numerous recordings.

Mike Hanrahan has released two solo albums, Someone like you and What you know and spent many years touring and recording with Ronnie Drew and with Eleanor Shanley. As a producer he worked with Ronnie and Eleanor on various projects. Beautiful Affair , a hit song written by Mike for Stocktons Wing was voted into National Irish Radio's top 75 songs over its 75 year history. It was also voted no.7 in a 25 year National Radio poll.
The live show features Leslie on Vocal, Keyboard and guitar and Mike on Guitars and vocal.
"the show is like a wonderful rollercoaster ride through a sea of emotions that stays with you long after the night has faded.... "
You are my sister features Leslie on Vocals and Piano, Mike on Guitars and vocals and special guest appearance from Ciaran Brennan on Double Bass. The song was recorded in Glenmalure among the Wicklow hills.
Further info
http://www.lesliedowdall.ie
http://www.mikehanrahan.com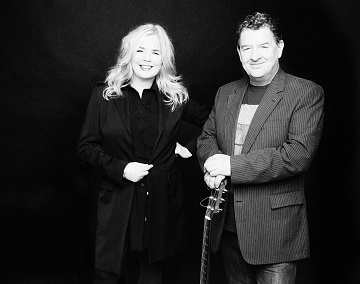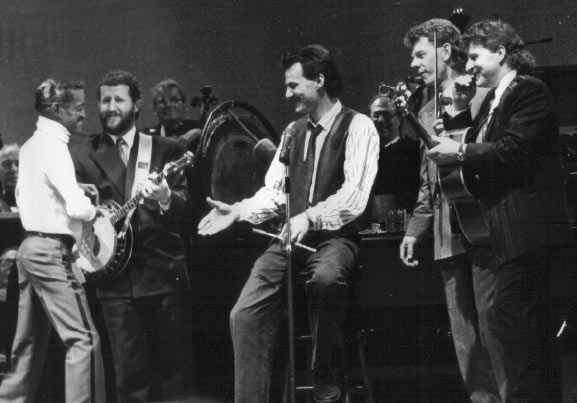 Go to MikeHanrahan.com
Archive info below
-----------------------------------------------------
LESLIE DOWDALL/ MIKE HANRAHAN
"LEARNING TO LET IT GO" First Single RELEASED ON MY SPACE FEB 7th.
Leslie and Mike on The Late Late Show Fri.13th of April
Tour begins the following night at The Forum in Waterford.
HOPE TO SEE YOU AT THE GIGS in APRIL/MAY
CHECK OUT THE TOUR PAGE FOR DETAILS
www.myspace.com/lesliedowdallmusic
Leslie Dowdall, (In Tua Nua) and Mike Hanrahan (Stocktons Wing) have embarked on a writing and performance partnership. An Irish tour begins in October and dates are posted on the tour page . The gig features Leslie and Mike performing the new songs with some of their old hits with Stocktons Wing and In Tua Nua.
Leslie Dowdall
Biography Singer/Songwriter/Performer

One of Ireland's leading female vocalists and singer songwriters, Leslie Dowdall first came to prominence with In Tua Nua, a seven piece outfit, who fused Celtic Tradition with Rock. With Leslie as lead vocalist, In Tua Nua recorded 4 Albums, and over a seven-year period they played and toured with bands like, U2, Simple Minds, Bob Dylan, and The Pretenders.
Leslie also enjoyed some success as a solo artist in her own right and recorded two Albums. She was voted Best Female Artist at the Heineken Hotpress Awards in 1997.She was lead vocalist on Ronan Hardiman's Lord of the Dance creator Albums, Solace and Anthem. She featured in a series of Beatle Songs conducted by Sir George Martin in the National Concert Hall. She supported Paul Brady on his epic 23 date gigs at Vicar Street, which also included guests such as Bonnie Raitt, Van Morrison and Sinead O'Connor. Leslie also features on Paul Brady's Album Songbook and live DVD. She has worked on a variety of TV, including Drama, music videos, live TV both factual and documentary. Her composition and Chart Hit 'Wonderful Thing' for which she received considerable air play at home and abroad also recently featured as the Theme Anthem of the RTE National Lottery TV Commercial. Leslie presented an eclectic mix of music in a 6 part series on RTE Radio 1 titled 'Songs for the Tempted'. She is currently working on new material and musical venture with Mike Hanrahan ex Stocktons Wing.
Mike Hanrahan began professional career with Maura O Connell in a duo called TUMBLEWEED toured the Irish Folk Circuit and appeared at the first Lisdoonvarna Music Festival. Joined Stocktons Wing in April 1980 and toured extensively throughout Europe and US. Wrote all six songs on Stockton's Wing's ground breaking and critically acclaimed Album LIGHT IN THE WESTERN SKY including hit songs BEAUTIFUL AFFAIR and WALK AWAY.Mike left Stockton's Wing 1994 to pursue solo career and also tour with Finbar Furey. In 1995 his first solo album is released in Germany, Switzerland and Holland "SOMEONE LIKE YOU".
In 1997 Mike teams up to write and work with Ronnie Drew on critically aclaimed theatre show, Ronnie I hardly knew you.1999 Produced and Arranged Ronnie Drew CD THE HUMOUR IS ON ME NOW. featuring Mikes song "We had it all" 2000 Musical Director for Ronnie Drew Eleanor Shanley collaboration " A couple More Years". 2001 Ronnie Drew and Eleanor Shanley release live Cd " A COUPLE MORE YEARS "featuring " We had it
All" "Beautiful Affair voted into TOP 75 IRISH SONGS in the history of RTE radio. Boy Band "REEL" record "Beautiful Affair
2002 New CD produced by Sonny Condell called "WHAT YOU KNOW" released in July to critical acclaim. Dinky records ,his own independent label is created. Web site www.mikehanrahan.com created. Mike concentrates on more solo work in Holland and Germany.
2003 Garden of Roses text included in Jackie Haydens book "IN THEIR OWN WORDS dedicated to victims of abuse and rape and published on behalf of the Wexford Rape Crisis Centre.
'Out There' is Leslie Dowdall's second album released in 1998. The album was released under Leslie's own management company,

LD Promotions Ltd, which was set up in 1997. 'Out There' was produced by ex-Fountain Head, Pat O'Donnell, who had also produced Kieran Goss's much acclaimed album "Worse than Pride". It was recorded over a 12 month period in her own studio based in County Wicklow. 'Out There' boasts eleven original songs and a cover of Jimi Hendrix's 'Angel'. Co-writing credit goes to Brendan Murphy of the Four of Us for 'Out There' and '8,000 Miles'. Other musicians appearing on the album include Bill Shanley, Trevor Knight, Wayne Sheehy, Tony Molloy, Lloyd Byrne, Jim Sheridan, Steve Belton, Karl Breen. Single releases from this album were 'Freedom', 'Angel' and '8,000 Miles'.

"Outstanding........Leslie Dowdall pushes herself to new levels of power and expression without losing that warm tone that has become her trade mark." - Hotpress Magazine
"'Out There' finally proves that In Tua Nua produced a singer/songwriter with the potential for longevity." - The Irish Times
"Leslie Dowdall has found her artistic niche and 'Out There' yields copious pleasure through its understated genius." - Rock n' Reel
"Refreshingly different in a more laid back acoustic mood, which suits Leslie far better." - The Star
"The 12 track album is full of gems from the title track to the excellent 'Miss You'. Thoroughly recommended." - News of the World
To order a copy of this album or the singles please click here.
No Guilt, No Guile
Leslie's first solo album released in 1997. It features her highly successful single 'Wonderful Thing'. On the album Leslie has featured accompaniment by Ronan

Hardiman, Dave Early, Jimmy Smith ex-Bogie Boys, Graham Henderson, Pat Fitzpatrick and is produced by ex-Waterboy Trevor Hutchinson and Peter McKinney of the Four of Us. There are eight original songs on the album and two covers chosen with a view to fit with the mood and sound of the entire album. They are 'Saturday Night' from Blue Nile and Sly Stone's 'If You Want Me To Stay'. The album was recorded over a six-week period and was released on Solid/Grapevine Records. 'No Guilt, No Guile' has been called one of the muscial hightlights of 1997 and was the best possible introduction to Leslie's solo talent for her fans. In it the vision and ability lying for so long beneath a wall of sound finally comes to the fore. The singles released from the album were 'Wonderful Thing' and 'Everything'.
"This album is certainly a rare gem" - In Dublin Magazine
"The best debut album from a solo artist after leaving an established band since Bjork left the Sugarcubes" - Irish Rock News, London
"If you like the groove of Grace Jones and the seduction of Sade, all with 90's sensibility, then you will love this album and revel in it's open hearted honesty" - Dublin Event Guide
"Leslie Dowdall's long awaited solo album has been more than worth the wait" - RTE Guide
"Excelllent voice, superb production, great album" - Mike Maloney, 2FM
Leslie Dowdall's solo career began in earnest with the release of her first album in 1997, the artfully entitled 'No Guilt, No Guile'. The album won high praise for the creativity, vision and the soulful vocals for so long hidden beneath the music of the past. As a result, Leslie won the 1997 'Best Solo Female' artist at the Heineken/Hot Press Music Awards. Also being nominated in the similar category at the IRMA Music Awards.

Included on 'No Guilt, No Guile' was Leslie's first single released in 1996. 'Wonderful Thing' did indeed become a wonderful thing achieving status as an all time favourite song from the ninties. 'Wonderful Thing' is currently receiving renewed interest as it is the featured music for the new National Lottery adverts on TV channels in 2002.

The album release was followed by a Irish tour in April 1997 playing to full houses across the country from Dublin to Cork, Galway to Wexford. The rest of the year was a schedule of touring, recording, and guest appearances on TV and Radio. It was in May that year that Leslie began recording the vocals for Ronan Hardiman's debut solo album 'Solas'. Ronan had received world-wide acclaim as the composer of the music for award winning 'Lord of the Dance'. Leslie and he had previous collaborations to their name.

This period of creativity and performing was, for Leslie, her emergence into the spotlight as one of Ireland's best live performers with a voice that had grown in expressiveness and confidence. 'Leslie's poise and style on stage is something special' as is her voice which appeared to strengthen with each performance. Comments were being made at this time that Leslie may have taken voice coaching but as she herself said, "If anything my voice has got stronger from lack of training and work." The truth may simply be that Leslie's voice was at last allowed to reign above the leaner musical arrangements.
Towards the end of 1997 Leslie formed her own record label, LD Records, under which the single "Freedom" was released, an appropriate title as the first song under a newly formed label. It was also the first of a new set of songs that would form the album "Out There" released in 1998. This new album was a continuation of the passage taken with "No Guilt, No Guile", a continued interest in gentler, more reflective, vocally driven songs.
'Out There' not only confirmed Leslie's ability as one of Irelands best female singers but also confirmed her talent as a songwriter. All the tracks on this album are original, the exception being the Jimi Hendrix song 'Angel' which receives tremendous attention from the songstress. Co-writing credits on the album go to such notables as Brendan Murphy from the Four of Us and Pat O'Donnell, former Fountainhead member, who also produces the album.

Since the release and subsequent promotion of 'Out There', Leslie had taken a break from writing to become involved in other projects of interest to her. In 1999 Leslie featured in a series of Beatles Celebration Concerts at the National Concert Hall. The concerts were conducted by the Beatle's producer Sir George Martin. Then renewing a previously successful partnership, she appeared as guest vocalist on Ronan Hardiman's second solo album 'Anthem' released in 2000. Leslie was the featured vocalist in the musical production 'The Flight of the Earls' composed and written by Mary Ronayne-Keane. This production toured Ireland in 2001, check back here for possible future dates of this show in 2002. In October 2001 Leslie was involved in Paul Brady's epic 23 date gigs in Vicar Street, with other guests such as Bonnie Raitt, Van Morrison, Sinead O'Connor and many more.

No biography of Leslie Dowdall would be complete without mentioning her involvement in the 80's band In Tua Nua. As the voice of the band that fused celtic traditions with rock for seven years, Leslie felt she needed to find her own style. That she has done and is rightfully considered one of the best female singer-songwriters in Ireland today. Her next album, currently being written, will prove that beyond doubt.

Go to Mikehanrahan.com